My contribution to this week's book spotlighting event, I realized five of my very favorite books all had a sort of element of magic, or at least was written in a way that felt magical. They each follow a female character (aka Women's Fiction) who is working to negotiate through what she has known and the possibilities of life enriched.  I have three others that absolutely justify attention, which I will feature on my own blog tomorrow.
The Moon Sisters by Therese Walsh. 


This books explores the relationship of two sisters, Olivia and Jazz, after their mother commits suicide. Jazz is very logical and practical, and put in charge of her sister who can see sounds, taste words, and smell sights. Olivia is certain she needs to take a journey to some far off place, a journey she decides to embark on by train hopping. As they negotiate the issues that arise from the eccentric journey, the people they meet along the way, and the obvious opposing means they have each selected to negotiate the reality of their mother's death, they reach a point where they each have to face the reality of their life, and their relationship with each other.
The writing in this book is lyrical. The character development, description of everything (especially Olivia's synesthesia), and the heartfelt connection Walsh creates between the sisters makes this a charming book.
The Look of Love by Sarah Jio. 
Jio is usually known for her dual time period books, and this starts out with the same feel, but then quickly unfolds as something completely different. In it, Jane receives a card on her 29th birthday instructing her to find the six different kinds of love before her next birthday. If she fails, there will be grave consequences. The trick is that Jane can actually see love – she experiences a sort of vision when this kind of love is present, much to the disbelief of her neurologist, and the science writer she falls for despite her efforts.
I have been a huge fan of Jio's writing since I first read her, but this book knocked my expectations out of the park where they were already decently vast. The Look of Love rotates through multiple points of view (again, different from her usual two) and each switch allowed me to fall in love with the character, regardless of their faults (which they all have).
The Museum of Extraordinary Things by Alice Hoffman. 
This books is showing up on lists all over the place and for good reason. Hoffman takes the beginning decades of the 1900's and explores them through the eyes of two characters, Coralie who is an incredible swimmer and plays the role of mermaid in her father's museum, and Eddie, a Russian immigrant whose own history is full of tragedy. A photographer by trade (eventually), he stumbles upon a mystery after the Triangle Shirtwaist Factory fire that eventually leads him to meet Coralie.
If you have read Alice Hoffman before, you will know that despite her incorporation of the magic, her writing tends to be dark (probably a content warning on that) and more serious (If you're only familiar with the movie version of Practical Magic, this may surprise you). This is the case with The Museum of Extraordinary Things as well, but there is still the sense of wonder and powerful reflection that is characteristic of Hoffman's writing.

The Witch of Belladonna Bay by Suzanne Palmieri 
Bronwyn left her home of Magnolia Creek, Alabama when her mother died, and hasn't been back for fourteen years. But when she gets a phone call that her brother is in prison for murdering her best friend, and his daughter, Byrd, is more than her father can handle, she returns. There, magic that she has been trying to hold off since she left comes back. She has the task of trying to sort through the past she tried to leave behind, solving the mystery of what really happened the night her best friend died, as well as providing the support and guidance to Byrd. It soon becomes clear that love AND magic are necessary to fix the family.
Palmieri writes voice in a way I've never seen before. The characters are so incredibly vivid, and the magic an obvious accompaniment. This has the plot to keep the reader wondering and the description to leave you in awe. *content warning for language – contextually valid, but warning none the less.
The Book of Life (All Soul's Trilogy #3) by Deborah Harkness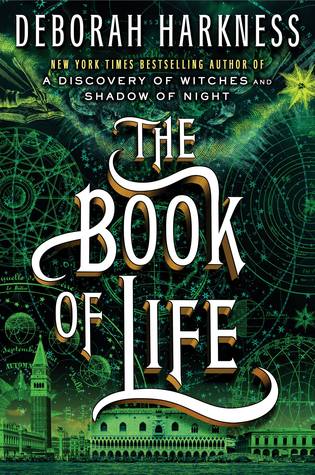 This is a little bit of a cheat, because for this book to make sense at all, it requires that you have read the other two books. But I loved them all and looked forward with anticipation to the conclusion of the series. There are no spoilers in this review at all (for the other books either). Diana is still trying to discover the secrets to the book she found in The Discovery of Witches, Ashmole 782. Age old traditions, and the people who maintain them, are violently opposed to a relationship between a witch and a vampire, and their efforts to break up this relationship that has been deepening over the course of three books are intensifying as well.
I often tell people this is the smartest brain candy I've ever read. The story is an absolute delight, and at the same time, the readers gets to learn about various pieces of history (primarily from centuries old Europe). Along the way, we get to discern the truth from tradition as Diana works to understand the power she inherited but never learned, has studied but doesn't know. All of this is enhanced through Matthew's genetic studies, as well as several other events that continue to encourage the plot to build to a pinnacle that will leave the reader satisfied.
——————————————
Tasha Seegmiller is a mom to three kids and high school English teacher in Southern Utah. She writes contemporary women's fiction with a dash of magic. Her loves include Diet Coke, owls, chocolate and cinnamon bears. She is an editor for the Women's Fiction Writers Association quarterly newsletter and can be found here.